Specialty Vibratory Conveyors | Food Process Systems | Made in the USA
Specialty Vibratory Conveyors
The design process begins in FPS's Test Kitchen where our food application specialists learn how your product moves.
Food Process Systems designs and fabricates custom vibratory conveyors to accomplish such diverse tasks as:
Aligning
Grading
Spreading
Sifting
Sugaring
Breading
Dusting
Spicing
Converging
Dewatering
Drying
Scalping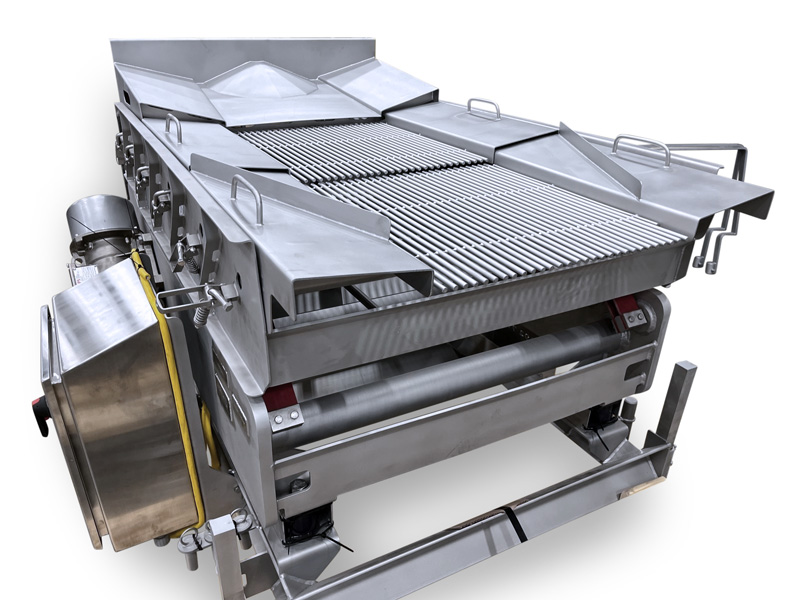 Our engineers experiment with pan designs, motor sizes, and other parameters enroute to designing and building your custom vibratory solution. We invite customers to participate in product tests or to view them via video. Our one-of-a-kind test equipment allows FPS to make truly unique shaker designs that ensure your product handling goals are achieved.
FPS Specialty Vibratory Conveyors feature:
Heavy-gauge 304 stainless steel angle and solid round-bar construction that eliminates hollow areas and bacterial penetration points.
Tilt-up and removable pans that make scrub-down and high-pressure sanitation easy.
Interchangeable pans to speed up product change over.
UL Listed electrical controls.
IP66 wash-down motors.
Heavy-duty glass-ply arms and solid-cast arm mounts.
Sanitary, ready-to-eat, USDA and FDA compliant designs.
Contact us to discuss your food processing needs.